Todos (
Tasks
)
Failing to plan is planning to fail.
Recruitment service is a game for the energetic player who can handle and switch between multiple tasks such as manage loads of emails, conference calls, candidate interviews, client visits, team catch-ups, payment chase up and documentation, etc. Every consultant works like a cooperate executive with a busy schedule. Leaving things unsorted may look easy, but it can drain out much more of your energy remembering and deciding on what needs to be done.
That's why we made the OrchidRS Todos Module your exclusive personal assistant:
All to-dos are integrated into one single list categorised by date, type or priority so it becomes very easy for you to make decisions.
OrchidRS Todos can be triggered to automatically create to-dos and appointments without your input. It saves you time!
You can stay informed by accessing the Todos list through links conveniently located in various places in OrchidRS.
You can even invite your colleagues to work together with you on the same task!
OrchidRS manages to-dos efficiently and let you focus on the critical part of your work: executing the tasks.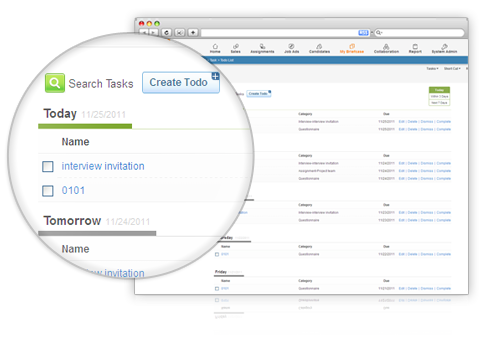 ;