SIMPLE AND EASY
1. No software to install, no servers to maintain, no IT staff, nothing to worry about.
OrchidRS is a cloud based recruitment solution. It means all you need is just a browser such as Microsoft Internet Explorer, Mozilla Firefox, Google Chrome or Apple Safari. OrchidRS is a flexible online
recruitment system
that can work with all of them. Fire up a browser, type in your username and password, then you can start enjoying using OrchidRS, it's as simple as that!

You will never need to install anything on your computer or purchase any expensive servers to run the application, thus no IT staff are needed to maintain software and hardware. We handle everything for you!
2. Get access instantly
It is very simple to start using OrchidRS; send your order to us, we call you back to confirm the details, we open up an account for you, you receive the login details, login and enjoy! All this can be done within a couple of hours! It's just that simple! There is no reason for you to not use the system right after you order! You will get what you need instantly!
FLEXIBLE
1. Completely customisable
All modules and functions are customisable based on your specific requirements.
2. 24/7 Online access
OrchidRS is an online system so you get 24/7 uninterrupted access.
3. No contract
With OrchidRS you can choose to sort out the payment monthly and there is no need to sign a long-term contract. So you always have the flexibility to choose what is more suitable for you.
AFFORDABLE
1. Free setup and assistance on data transfer
We offer free setup for all standard implementations no matter what size your organisation is, we also offer free assistance on data transfer if you have data stored in any other systems.
2. 30 Day money back guarantee
If you're not completely satisfied with OrchidRS or our services we will gladly provide a full refund of your license fee within 30 days of service commencement.
3. From $89.95 pp/m
For small agencies to use OrchidRS you only need to pay as low as $89.95 pp/m. It is affordable to every business!
SOPHISTICATED
1. End to end solution
Our goal is to provide you with a complete business solution, so at every stage of your daily tasks you can fully utilise the powerful modules in OrchidRS. Such as: OrchidRS CRM, OrchidRS Order Management (Perm, Temp & Contract), Ad Posting & Posting Budget Management, Fully Customisable Candidate Portal, OrchidRS ATS (with unique features such as Reference Check, Online Timesheets, Interview Management, Todos management, etc.), payroll integration, Smart Reports, etc.

With OrchidRS your search for a truly complete recruitment system is over. This is just the system you need.
2. Flexible Platform
OrchidRS is Your assistant, Your helper, Your tool. It is you who decide how it will be used. You even have the privilege of re-defining the whole system. After all, it is your business, your choice and your decision, which we highly respect. We have made OrchidRS such a flexible recruitment software that it can be configured to match your business process and meet any level of demand at any time.
3. Secure System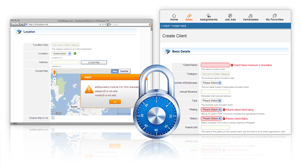 OrchidRS takes the safety of your information seriously. You can be assured by the high level of security strategies implemented in our system. A team of experienced security professionals works with our development team closely and has integrated security strategies throughout OrchidRS. It is our responsibility to guard OrchidRS at all times, so you can just sit back and relax!

4. Open Platform

OrchidRS is an open system that can integrate or work with any other third-party systems such as Payroll and Psychometric testing systems.

;